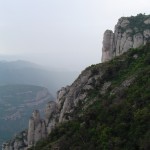 Spain , 1236 m – visited may 2007.
A one hour train from the centre of Barcelona brings you into a different world.  The mountain and monastery of Montserrat are situated just 50 km from Barcelona. 
The monastery and mountain are covered in an atmosphere of mystery.  The form of the rocks is really special.  There is also a cable car next to the monastery that brings you higher up the mountain, and the start of interesting hikes.