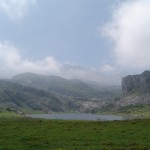 Picos de Europa, Spain , 1154 m – visited august 2007.
The lakes of Covadonga can be reached after a climb of more than 1000 metres, taking the bus is recommended (very few cars are allowed only in the morning time), an exciting trip.  The lakes can be reached by walking from the bus stop , an easy hike . 
A special attraction are the cows which are walking around everywhere and really beautiful.