SAN FRANCISCO, AUGUST 1995
- In the days I spent in San Francisco, several of my travel dreams came true, like walking on the golden gate bridge, riding on the cable cars and going to Alcatraz.  At the same time these were the icons that appeared in so many American movies I had seen at home.  And it all seemed to be true in reality !  But I also discovered other places that were before unknown to me, and tasted the multicultural aspects of this exiting city.  This city ranks high on my list of most beautiful cities in the world. 
The hills and the bridge
First thing that struck me in the city : the streets are steep, very steep ! This is because of the 49 hills SF is built on, and some have famous names like Pacific Heights, Telegraph Hill, Russian Hill, … Another famous place is Twin Peaks, where the view of the city is fabulous.  I remember the big antennas up there, and when some years later I took a flight from SF, they were visible above the mist that is so typical for the city.
Next stop, the Golden Gate bridge – I used a local bus, and the driver said we were unlucky : there was no mist today.  I walked over the bridge, which is a nice way to realise what a masterpiece of engineering this bridge is – you may not be afraid of hights and don't lose your keys here.  Near to the bridge, there is the golden gate park, with a lake, a Dutch windmill (!) and a Japanese garden, where I had some Japanese tea.  At night, I sailed a catamaran under the bridge.  The city lights were bright and beautiful, and made it a romantic setting…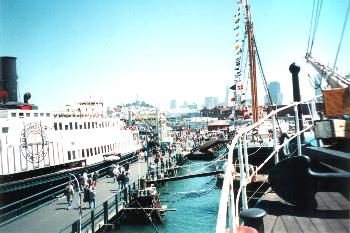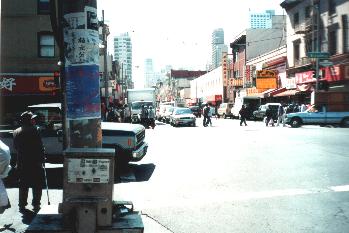 China Town
Other highlights I visited were the piers, where a nautical festival took place at that time, and several other  buildings of interest, like the Transamerica Pyramid and Coit Tower.  And China Town.  I took a local bus, and it seemed like in China : lots of Chinese getting on the bus, carrying a lot of stuff, the bus driver shouting to calm them down,… I wandered through the streets, and for a while I was in China.  I went for lunch to a local restaurant, which was full of Chinese people. I remember I had trouble with the chopsticks at that time, and that the woman next to me told me in Chinese how to handle them.
And then for something completely different : Alcatraz.  This is of course a very touristic place now, but somehow it gives you a good impression of how life would have been there when it was still a prison. And again, some movies came true…