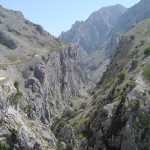 Picos de Europa, Spain – visited august 2007.
Many interesting and challenging walks exist in the nature reserve of Picos de Europa in Northern Spain.  A rather easy – but a bit long – walk is through the Cares Gorge.  An almost flat path is carved out of the rocks all the way from Puente Poncebos to Cain.  Return the same way or by jeep.
The walls of the canyon reach 2000 metres, the heat inside the canyon is sometimes nearly unbearable.