HELLESYLT, AUGUST 1994 - A trip to Norway means above all travelling through one of the most spectacular nature areas of Europe : lakes, waterfalls, mountains, white-water rivers, glaciers, ... and the fjords. Everything is great over there, but you surely need some collaboration of the weather gods. Before we reached Hellesylt, the weather had been extremely good, exceptional for Norway even. But in Hellesylt we ran out of luck and had some typical rainy Norwegian days. But even in those conditions a boat trip on the famous Geiranger fjords remains a unique experience.
Before we came to Hellesylt, we had visited the Dalsnibba, a mountain peak from where you can see the Geiranger fjord deep down below. The ascent (and descent for that matter) of the Dalsnibba was already an experience - the road is not paved, quite narrow for a tour bus, and crawls up the mountain peak, bend after bend... On the top it was quite windy and rather cold, but the view is unbelievable...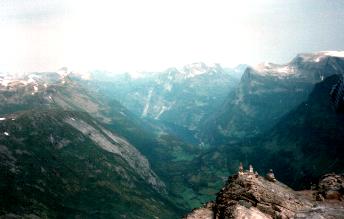 In Hellesylt, a small and quiet village, we stayed in a youth hostel, a former school building. After diner (some very big cooked potatoes , and a quarter of a cabbage - this hostel was seemingly not the most 'gourmet' place of Norway...), we were having a drink and a chat - as we were with quite a big group, we had many bottles with us as each one of us has brought some bottle from home (alcoholic drinks are extremely expensive in Norway). Locals were quite surprised when we opened our own bar in the evening...! It's a good way to meet Norwegian people however, they will surely not refuse if you offer them a drink (earlier on our trip some locals offered us high prices for some of our bottles). From the balcony you could see the fjords already, but it was misty and rainy. Later that evening we went for a walk 'into town', being almost alone in the streets, and watched some women's soccer (which is very popular in Norway, far more than in the rest of Europe).
| | |
| --- | --- |
| | |
The next day we took the boat trip from Hellesylt to Geiranger. This was the big fjord sightseeing day ! Regarding the weather, you could decide to stay inside the boat, but the atmosphere on the deck was far better - the wind, the rain, the cold, the sound of the raging waterfalls ... the real fjord experience ! This fjord is world famous for some beautifull waterfalls, with poetic names like 'the bridalfall' and 'the seven sisters'... The rain and wind simply added an extra dimension to them. Although we have seen many other fjords on this trip, the impression of this one will always stay my favorite.